In September 1970, Ken and Tom Honecker purchased Blackford Equipment Rental from Clifford Blackford and became K-T Equipment Rental, Inc. The location at 445 Western Avenue was formerly a foundry. Removal of the foundry smoke stack was the first of many improvements over the years. Ken, employed as a salesman and blaster by Atlas Powder Company, dynamited the structure down.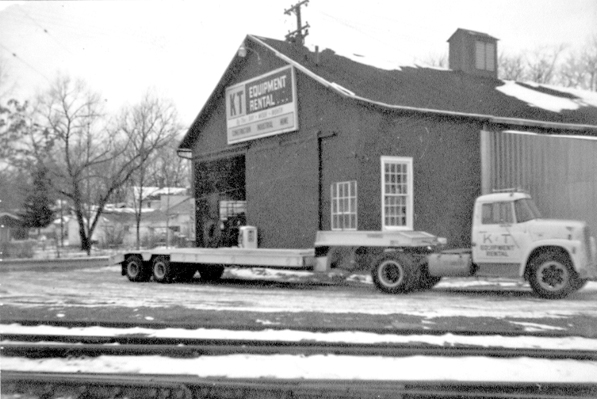 Tom Honecker, a recent graduate of Ohio State University, took on the challenge of K-T Rental September 1, 1970. John Wells joined the K-T team on January 1, 1971. Tom, Ken and John worked together to establish K-T Equipment Rental, Inc. as a premier small business that emulated the American dream.
K-T began with a small fleet of push lawn mowers, space heaters, air compressors, ladders, hand tools and concrete tools. The small business grew quickly to accommodate the growth of the economy of the 1970s. The inventory expanded to meet the diverse requirements of the construction, industrial and homeowner customer base.
By the mid eighties, the company outgrew its buildings and small lot that was surrounded by streets and the railroad crossing. Three acres were secured one block south on Western Avenue. A new facility was built in 1987. In addition to the main building, it included a paint building, a wash island, fueling station, and a large fenced lot. Another storage building was added just a few years later.
Findlay's strong economic base provided continuing growth for K-T Rental. Tom's innovative organization, diverse inventory, and micromanagement kept pace. In the early 1990's a new face was added to the K-T team, Ricky Rents. My. Bill Slack, a local artist and advertising businessman, created the image for Tom and Ken. This iconic trademark appeared on the building and in the advertising as an entertaining and novel strategy to promote the equipment  and direct customers on sight. Ricky Rents remains a significant personality at K-T.
Third generation owner, Kr. Curt Honecker, grew up working at K-T Rental, Inc. Curt is co-owner of Valley View Animal Hospital in Dover, OH. He depends on the general manager and CPA, Deanna Pahl, for the day to day operation of the rental. Deanna and the K-T team work together to provide clean, mechanically sound equipment and service for the Findlay area.
K-T Equipment Rental's success is attributed to business integrity, visionary leadership, progressive change, customer service, sweat equity and the meticulous equipment regime established by Tom's common sense business structure. Tom's model for equipment rental success is still followed today under the leadership of his son, Curt Honecker.